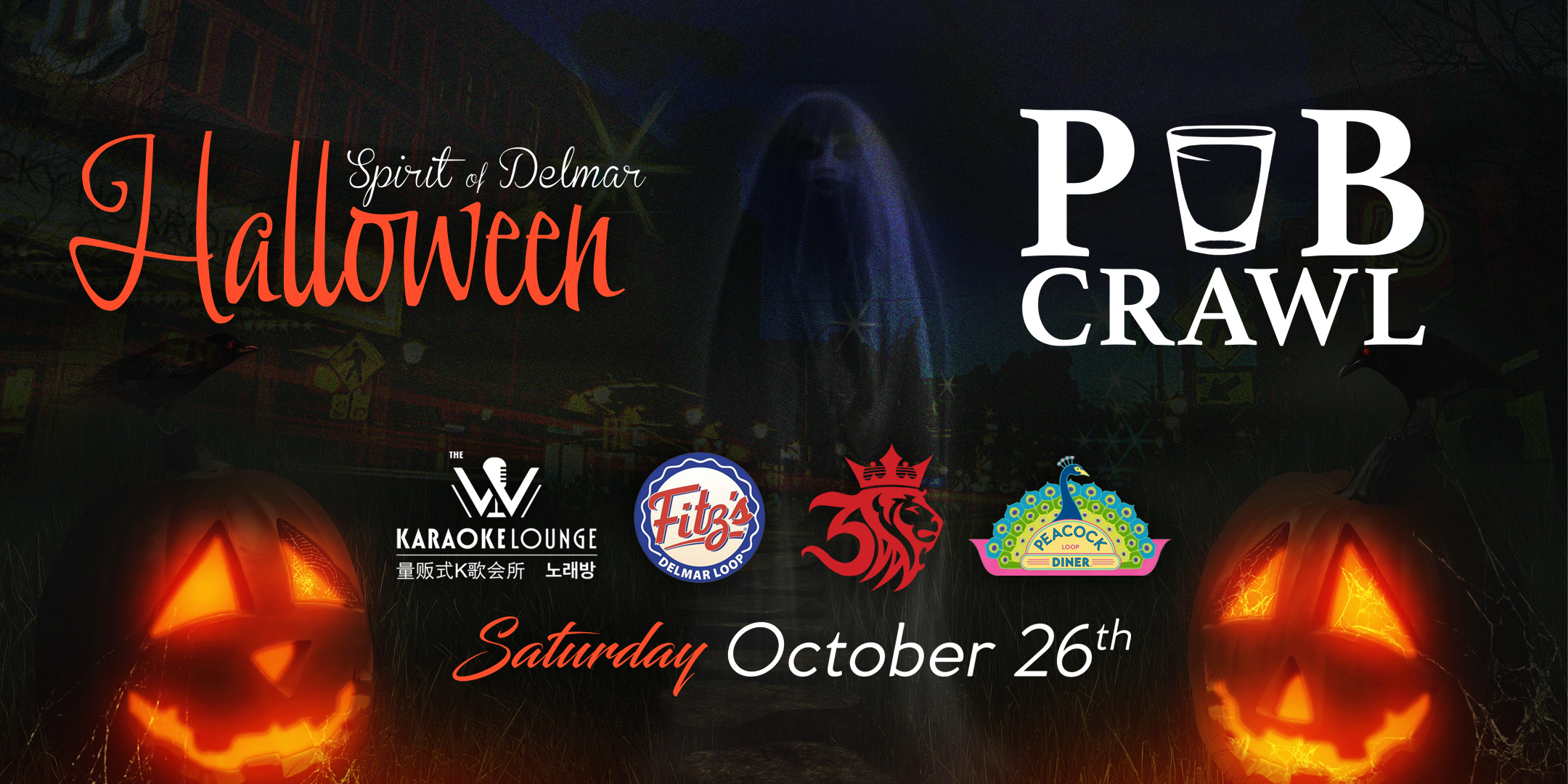 BUY A TICKET FOR $20 – GET 4 FREE DRINKS
GET MY TICKET NOW
4 restaurant/bars in the Loop will offer great drink specials, costume prizes, and more to help get you in the Halloween spirit.
Put on your scariest, wackiest or sexiest costume and head down to the Loop for our epic Spirit of Delmar – Halloween Pub Crawl. During select hours, participating venues throughout the neighborhood will offer great drink specials, costume prizes, and more to help get you in the Halloween spirit. Purchase of a ticket in advance will get you one FREE drink on select items at each location.
Date: Saturday, October 26, 2019
Check-in starts at 6pm at Market in the Loop at 6655 Delmar Blvd. Tent will be outside for check in.
Check in at the registration location below. You will get a  wristband & drink tickets and be on your way to enjoy the Pub Crawl.
Each participant will receive 4 drink tickets (on select items) which are individualized for each location. Tickets are picked up at the registration table. Must show valid ID.
Pricing: $20 for 1 drink at FOUR Loop Restaurants/Bars including:
W Karaoke Lounge
Fitz's
Three King Public House
Peacock Diner
Halloween Drink Specials
The W Karaoke Lounge
FREE COVER – $10 value
$6 Alien Brain Hemorrhage Shot
$6 Zombie Snot Shot
$6 Black Vodka Shot
***Rent a Private Room & receive FREE DRINK credits for the value of the room.
Fitz's
$3 Domestic Bottles & Drafts
$4 Crafts Drafts
$6 Signature Cocktails
Three Kings Pub
$3 Jameson Shots
$5 Tres Agaves Margaritas
$5 Kong's Islands
Peacock Diner
$2 Select Drafts
$3 Shots of Fireball
$6 Witch's Cauldron Martini
: | Disclaimer |:
– Halloween Costumes encouraged!
– Must be 21+ to participate
– Do Not Drink & Drive – Take a cab, Uber, walk, or arrange designated driver.
All masks will need to be removed prior to entering for verification of your ID. No weapons will be tolerated including toy: swords, knives and/or guns regardless if they do not appear to be real or not. We reserve the right to refuse service to anyone or confiscate any props to a costume that may deem inappropriate or dangerous.
ALL SALES ARE FINAL. NO REFUNDS OR EXCHANGES.
Must be 21 years old to participate; valid State ID required.
We promote safety and urge all participants to drink responsibly. If you appear to be over intoxicated then the venue has the right to deny your entry. Participants must bring their eTicket to the registration table on their mobile device or printed.
There may be lines at venues. Pub Crawl tickets do not include "skip-the-line" privileges. If a venue is at capacity then you may have to wait or proceed to another venue. Each venue must abide by Fire Marshall and capacity issues.
All Sales are final. No refunds. Prices are subject to change while supplies last. Please drink responsibly.
GET MY TICKET NOW