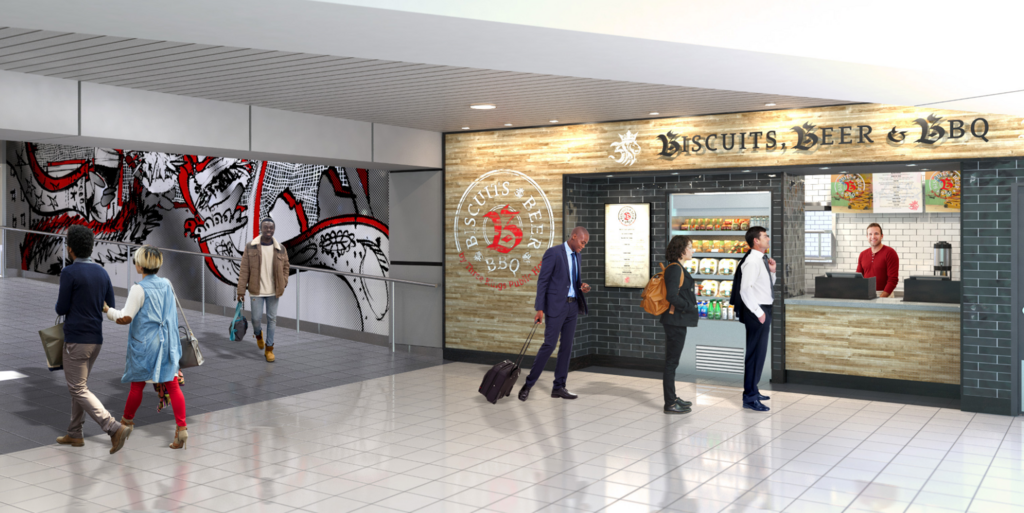 Biscuits, Beer & BBQ to Serve Up Quick-Serve Options in Terminal 2
(August 21, 2019 – St. Louis, MO) The already popular Three Kings Public House at St. Louis Lambert International Airport (STL) is spinning off a new concept in Terminal 2 called Biscuits, Beer & BBQ by Three Kings Public House. The new concept, to be operated by HMSHost, is being built just west of the Three Kings Pub current location between gates E33 and E34. It will open in November before the peak holiday travel period begins.
"Three Kings Public House has become a must stop for travelers before their flight, and now we're thrilled to build upon its outstanding success with the upcoming opening of Biscuits, Beer & BBQ," said HMSHost Vice President of Business Development Bryan Loden. "HMSHost is excited to work with the Airport and the Three Kings team on another great food and beer experience created exclusively for STL travelers to enjoy before their flight."
"After the huge success of Three Kings in Lambert Airport (Voted 2nd Best Airport Bar in North America by USA Today readers), we jumped at the chance to do another winning concept with HMSHost," said Derek Deaver of Three Kings. "Biscuits, Beer & Barbecue by Three Kings Public House is going to set the precedent for fast casual in Airports."
Biscuits, Beer & BBQ (3B's) will offer quick-serve and grab-n-go items featured in its name. Biscuits are the foundation of the menu that will begin with breakfast from classic biscuits & gravy to egg, bacon and cheese biscuits. Barbecue will pull the weight for lunch and dinner with pulled pork and smoked brisket biscuit sandwiches as well as buffalo chicken biscuit sandwiches featuring Three Kings' award-winning buffalo sauce. BBQ oriented side dishes of fries, slaw, and macaroni & cheese are also part of the new menu. 3B's will also offer a local selection of St. Louis' beers on draft, such as 4 Hands Incarceration, that will pair well with biscuits and BBQ. "Three Kings has a tremendously loyal, local following and had a banner first year in Terminal 2," said STL Director Rhonda Hamm-Niebruegge. "We think this is a unique concept that will prove successful as well and meet the demand of our growing passenger base near our newest gates in the terminal."
Founded by University of Missouri graduates Derek Deaver, Derek Fleig, and Ryan Pinkston in 2011, Three Kings' "grub and suds" recipe has been gaining momentum over the last eight years, with the Airport being the company's fourth St. Louis location when it opened in May 2018.
Three Kings brought a signature atmosphere and style to STL with exposed brick, rich wood trim, and medieval candelabra chandeliers under the watchful eye of the pub's namesake kings- Elvis, Henry VIII, and King Kong. At 3B's, passengers will be greeted with another iconic mural orienting customers to the order counter that will feature locally reclaimed wood, steel and glazed tile.
HMSHost has partnered with JE Foster Building Company for the build-out of the new location. Construction will begin later this month.